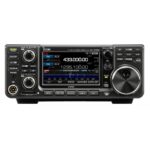 Pour mettre à jour le Fimware de votre IC-9700 avec la version 1.24
1 Mettre une carte SD dans votre IC-9700

2 Menu,SET,SD Card,Format, Format OK? YES

3 Unmount, Unmount OK? YES
4 Télégarger la derniére version ici:
https://www.icomjapan.com/support/firmware_driver/2709/

5 Mettre le fichier 9700E124.dat dans le répertoire IC-9700

6 Remettre la carte SD dans le IC-9700

7 Menu,SET,SD Card,Firmware Update fléche du bas, Do you agree to all of the above? YES IC9700E124
Do you wish to start the the firmware update? YES 2 secondes,
Checking the file,Please wait ( le IC-9700 rebote et affiche ( ICOM IC-9700 1.24 en bas à droite)

8 Vérification de la mise à jour Menu,SET,Others,Information,Version,
Votre IC-9700 est à jour !!!
Cet article IC-9700 Mise à jour 1.24 est apparu en premier sur Dstar-France.fr.